MT4 Renko Forex Robot "Multipair-Pyramid-Grid-OverLap"
Expert advisor MPGO is our best and unique MQL Soft for manage accounts.
We all time doing new version and update our Clients. Once you will learn all parameters of this Forex Robot it will be best expert advisor for you ever. Making money is not easy and total automated trading software not exist.
This EA can work 95% of time as autopilot trading robot, but 5% of time you must control it. In this way you will feel that it will be most profitable expert advisor that you ever tried. All parameters of EA posted in Video-Courses
Forex Robot EA MPGO v3.3.0 (MT4)
MT4 Renko expert advisor reached more 10 times 1000 % gain at real verified accounts
Platform : MetaTrader4 that works on Windows OS (VPS or 5/24 PC with internet)
Minimal Balance to trade EA MPGO = 10 000 per 1 pair . Better 30 000, it can be a Cent account with 300 $ = 30 000 Cents. If Trade multi-pair modes like 5 pairs : need 10 000 x 5 Balance = 50 000 = 500 USD at Cent account.

10 000 USCents ($100) at Cent Account for 1 pair at

Roboforex Broker

$10 000 at any ECN or Standard account (any other Broker with spread 1-4 pips)

Minimal leverage for Multi-Pair EA: 1:500 and higher. Better 1:1000
Average Monthly Profit : Average profit = 15-45% per month in automated modes. Drawdown up to 30%. Unfortunately Total Automated robots cannot make more profit. More profit possible only if you learn all parameters of EA to trade in Semi-automated modes (EA + Manual Control). Trading pairs: 1-15 pairs including XAUUSD and even some stocks same time. Possible profit 100-200% Month.
MaxDrawdown: up to 30% in Grid Strategy and up to 10% in Scalping Mode with StopLosses
Automated & Semi-Automated Modes for more profit. Possible control EA from TM4 Mobile app
It's also Renko Forex Robot – it can trade all indicators strategies not only at usual charts M1 M5 M15 M30 H1… and also M2 M3 offline charts generated by Renko Charts Suite
Indicator strategies coded into EA MPGO:

ParabolicSAR Double TF (3 types), Index_All (5 types), TMA Double TF (18 types), CCI (2 types), TurboJrsx RSI (3 types), WATR (2 types), Snake+Moving Average (1 type), CMA (non-repaint TMA), Renko Price Action (5 types), MAonRSI

Risks (!) : Please keep additional saving funds to help sometimes EA in hard trends, market not every day friendly. From our side we try to combine good mathematic with best signals in new versions and updates – only in this way our clients able make consistent profits from month to month with our soft.
We created private telegram group for clients that purchased EA to share parameters and ideas for best performances and future versions of EA – yes we support and update our clients. That is all info about EA – i need you to understand my target not just sell EA but collect smart people with good brains for develop more in future. If you will be interested we can add you as tester-member of EA beta-versions into VIP telegram channel.
Please learn all strategies and parameters we coded into robot at this page https://www.fxpip.one/forex-video-courses-online/ . In future we add more indicators entries and strategies into EA
Most popular double TF TMA bands strategy #8 verified and confirmed at Real account https://www.fxpip.one/tma-bands-strategy-in-forex-robot-mpgov3-2-5/ . In latest version of EA MPGO we able to use all existed strategies at RENKO bars with additional Renko Bars Price Action filters
---
Mathematic Parameters and Indicator signals coded in EA MPGOv3.3.0 :
---
---
How to create Renko Charts for all pairs and trade multi-pair EA MPGO from one chart at all pairs with indicator signals that takes from Renko M2 timeframes?
First of all open MT4 and in Market Watch press right mouse and choose Show All:
2. In MT4 options do this and reboot your MT4 platform for the changes to take effect:
3. Choose and open charts with H1 TF pairs that you would like to trade in set of EA MPGO (in case we will use H1 to build from this TF Renko M2). For example we need to trade 3 pairs: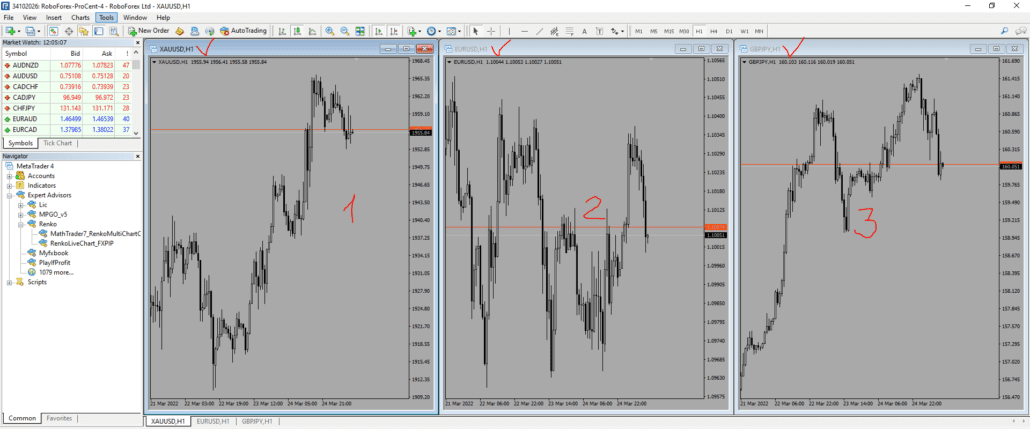 4. Open History Center and download M1 of all trading pairs you will trade: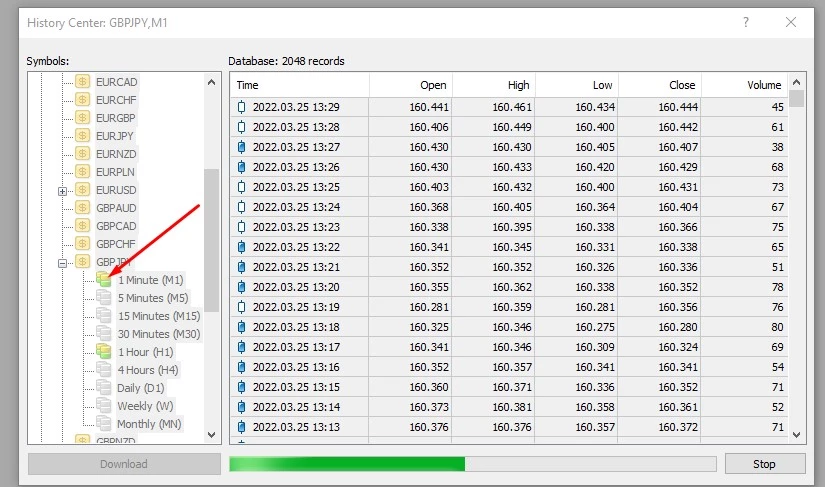 After download process finished press again Download M1 to recalculate all other timeframes: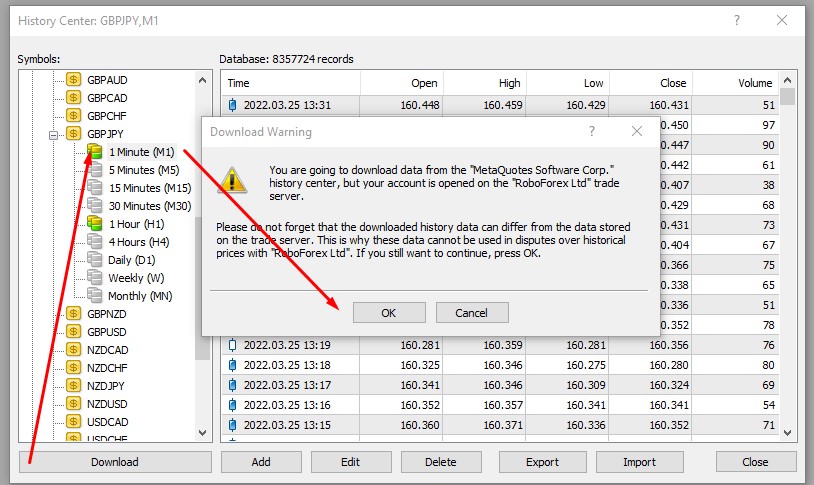 5. Reboot your MT4 platform (close and open)
6. Now we will attach at every H1 chart our renko generator "EA RenkoLiveChart_FXPIP" to buld and update new separate Renko Chart M2 TF for each trading pair we will trade in set of EA MPGO. Once you attach at every H1 chart "EA RenkoLiveChart_FXPIP" it will create new separate M2 chart and will keep continue update data from H1 to Renko:
7. Now we can attach one EA MPGO with renko timeframes in SET at one of this renko chart. EA will trade from ONE renko chart all other Pairs with created Renko Charts (Not need to attach multi-pair EA MPGO at every Renko Chart – only at one). If we created 3 new renko charts for 3 pairs : XAUUSD;EURUSD;GBPJPY in set of EA MPGO they must be same in parameter PairsForTrading = XAUSUD;EURUSD;GBPJPY. We also recommend activate LoadHistoricalData=true when you first time attach EA – it will update all charts and timeframes additionally for correct work of indicators that robot use, after EA update all you will see message ALL SUCCESS in experts. After this you can make LoadHistoricalData=false.
8. Installed EA MPGO one pair XAUUSD,M2 (offline) started to open orders using indicators from Renko M2 timeframe;
In set as you can see we able from now use any indicaotrs strategies using M2 Timeframe: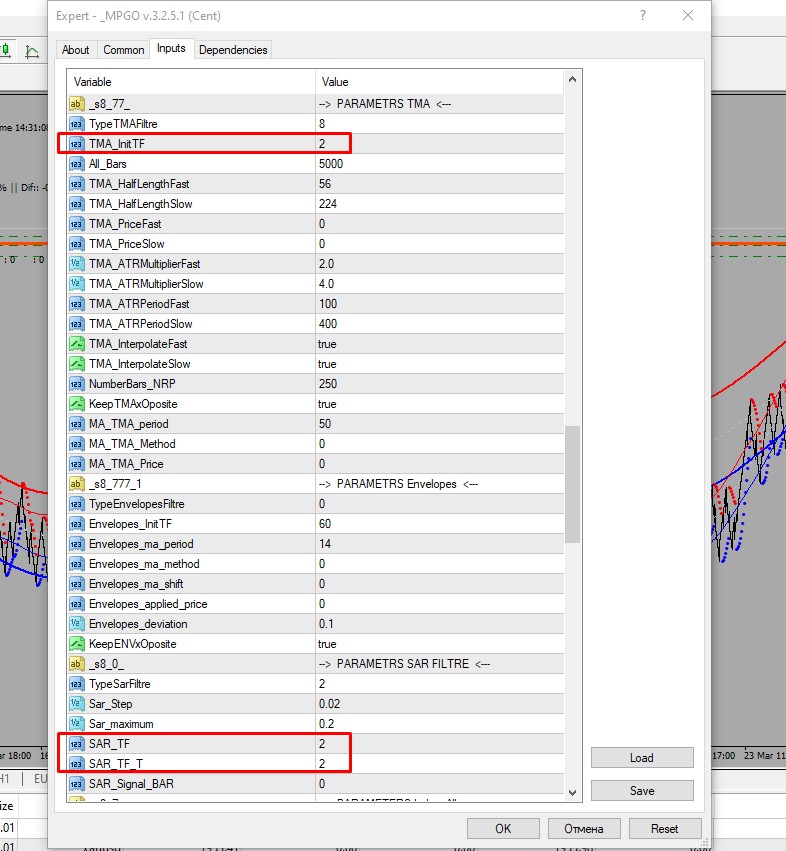 Please do not close any opened and created charts before for correct work of Renko Charts. If need to add one more pair (EURJPY) in Set – open new H1 Chart and attach "EA RenkoLiveChart_FXPIP" – it will create and open new M2 TF Renko chart. Only after this you can add new pair in parameter PairsForTrading = XAUUSD;EURUSD;GBPJYP;EURJPY