Crypto Funds Management – How it works?
We accept crypto payments in:
USDT (TRC20)
BTC (Bitcoin)
ETH (ERC20)
Best way to deposit – using USDT(TRC20). All other crypto (BTC & ETH) will be converted into USD (dollars) at the moment we accept your deposits and at the moment we send you back USD at your BTC or ETH crypto wallet (all calculations and our Crypto PAMM will be in USD). We split funds into our 3 trading PAMM Accounts to make consistent intraday profit at Crypto, Futures and Forex using our unique soft and systems that we developed (robots and indicators) with manual control of every order and stoploss.
Minimal amount and period of investment ?
Everyone can start earn 1 % per 1 day from $ 100 only. In 3 Months you can grow your investment approximately in +100%.
Minimal investment period is 1 week (7 days Mon-Sun), but we trade Crypto every day and make profit even at weekends.
When i can request withdrawal of profit & deposit?
You can request withdrawal of profit or deposit any time. Your money will arrive at your wallet after Minimal Investment Period will be finished (at end of the current week – Sunday from 22:00 – to 00:00 GMT). In future we plane make ability for withdrawal of profit even every day. Soon we launch telegram bot that will make all requests easier with friendly-usable interface and statistics calculations.
What crypto wallets do i have to use for deposit?
We accept USDT (TRC20), BTC(bitcoin), ETH(ERC20) and trade 3 different PAMM accounts based at USD balance. All mutual settlements of our project will be carried out in dollars, so we are not tied to changes in cryptocurrency quotes. If you have no Crypto Wallets we recommend you to register USDT (TRC20) wallet at Binance.com.
If you need some help or support – join this Telegram Group
What commissions do i have to pay for crypto funds management?
1 deposit + 1 withdrawal request = $5 from any USDT amount per such circle (we will include this $5 in withdrawal request)
100 % of daily profit goes to : Investor Income 80% | Partners income = 5% | Service Fee = 15%
Everyone can be a partner of crypto funds management
Soon we launch partnership system based at TelegramID invite links into our Crypto Telegram Bot (t.me/FXPIP…_bot/ib#######). Everyone can earn 5% from investor profit just sharing personal telegram IB link in Social (passive income)
Auto-Reinvestment Everyday
If investor do not request withdrawal of daily profit – we add this money into investor balance for trade next day. It means you will receive more income in money. Example: investor invested $ 1000 and we done +10 $ (+1%) per 1 day. If investor do not ask withdrawal of profit=$10 our service will add daily profit into investor trading balance, and Tomorrow we start make 1% profit from new trading balance = $1010. At next picture see how you can grow with auto-reinvestment option from $1000 with 1 Month into +34% or +$347 (left side of pic) and 24 Months into +129 000% or +$1290 000 (right side of pic). For future partners: 1291 376 * 5% = 65 500 $ would earn per 2 years with our service just inviting single investor with 1000 $ :
Crypto funds management service launched in Dec 2022. Soon will be added new telegram bot with friendly-usable interface, where every investor can check his own balance and profit. Please follow our news in telegram channel https://t.me/profitFXPIPs
Important: we do not manage other companies or private Crypto and Forex accounts because of signal copyrights. Management via Crypto is best solution – it not let investors copy and resell our signals without us. At the same time FXPIP_CRYPTO_INCOME project use 3 different accounts at 3 different markets for generate average stable daily income: Forex, Stock, Crypto Futures – its not possible physically to connect someone as copytrade.
---
FXPIP_Crypto_Management statistic since 1 December 2022: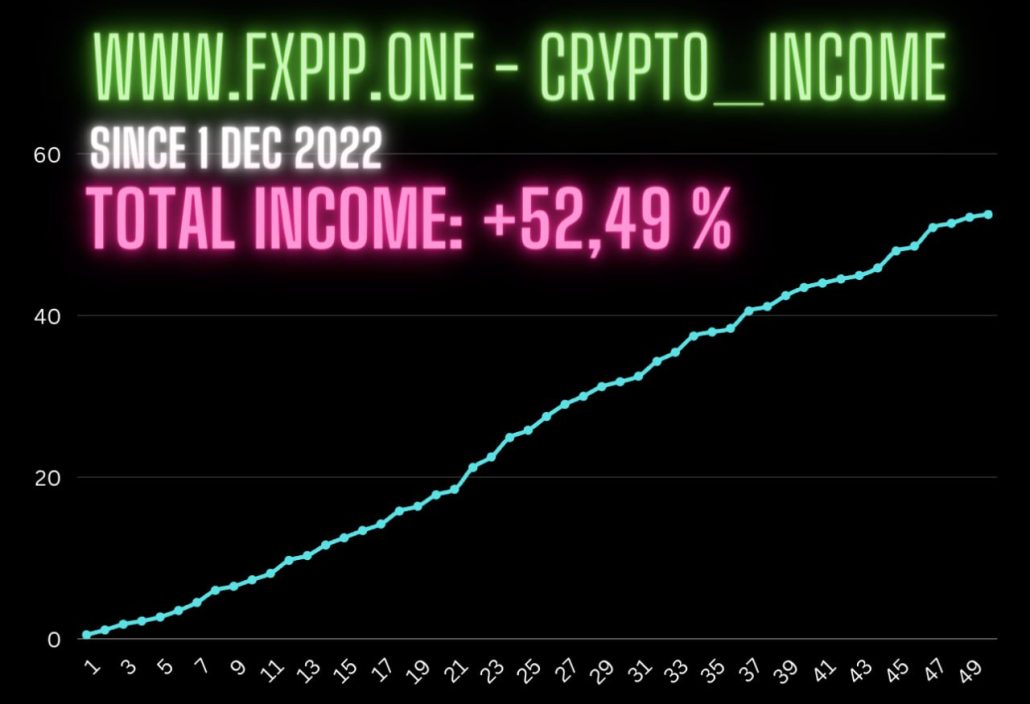 Deposit Requests must be sent at Crypto@fxpip.one with your info:
1) Your First and Last Name:
2) Your E-mail:
3) Your Telegram ID:
4) Your wallet will be in: Binance ID, USDT(TRC20), ETH(ERC20), BTC(Bitcoin):
5) Your Crypto wallet address:
6) What amount in USD you will deposit: 
Copy text above and paste it with your info in letter that you will send to us. Subject of mail must be DEPOSIT REQUEST
After we receive mail with request we will send you FXPIP crypto address for Deposit. After we receive money from wallet you mention in current Deposit Request we send you confirmation mail from crypto@fxpip.one that Money Accepted in Work. If possible send us transaction id of your payment : https://t.me/profitFXPIPs/1678
---
Withdrawal Request must be sent at Crypto@fxpip.one with your info:
1) Your First and Last Name: 
2) Your E-mail: 
3) Your Telegram ID:
4) Your wallet will be in: Binance ID, USDT(TRC20), ETH(ERC20), BTC(Bitcoin): 
5) Your Crypto wallet address:
6) What amount in USD you will withdrawal: 
Copy text above and paste it with your info in letter that you will send to us. Subject of mail must be WITHDRAWAL REQUEST
If you have any question or need support please contact us in telegram Channel in comments: https://t.me/profitFXPIPs